I've been working in radio for 7 years and over that time people, have asked me how many types of radio apps I can actually make. I tell that that I'm not making the same app over and over again. There are, in fact, many different types of radio apps. Here's my breakdown.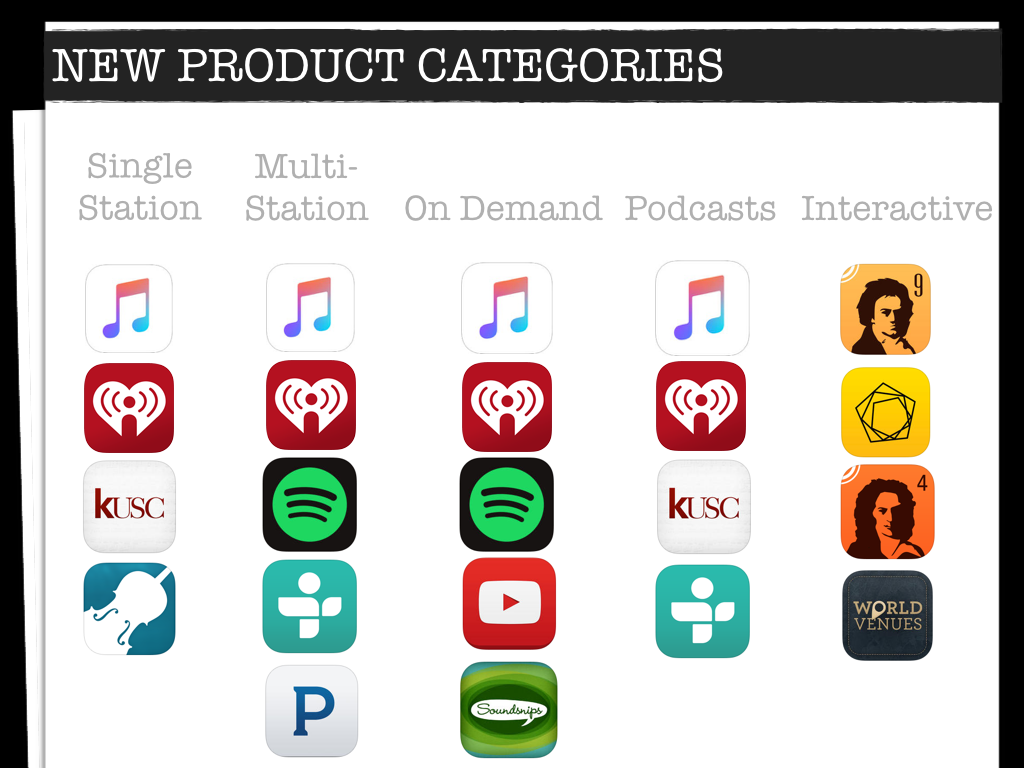 Single-Station Apps
A single station app is simply an app that broadcasts a single local radio staion. Two single-station apps that I manage are Classical KUSC (iOS, Android and Classical KDfC (iOS, Android). These apps are usually centered around a specific audience or market within a local region.
Multi-Station Apps
Multi-station apps are apps that have the ability to deliver many different radio sations. Sometimes these apps are called aggregators because they pull sources from various media providers. For example, Apple iTunes offers a feature on their desktop player where you can listen to individual radio stations from across the nation. iHeart Radio actually owns hundreds of radio stations around the country so they provide those streams through their app. Pandora allows you to build a custom radio station using software technology. Spotify has a feature that rivals pandora in being able to create a custom radio station. Finally, TuneIn aggregates feeds from various radio sources across the globe. The key here is that the listening experience is somewhat the same but how each of these apps provide this service is very very very different.
On Demand Apps
Unlike a traditional radio license obtained from the FCC, on-demand streaming licences are private licences obtained only by going to the music industry directly. These are the licences that fuel Spotify, Tidal, Apple Music, Deezer, Primephonic, Pandora Premium, etc. Without these licences, you cannot deliver
Podcast Apps
Podcasting is a new radio category that have grown like wildfire in the past few years. All-in-all, podcasts are great for a few reasons. For listeners, podcasts provide an opportunity to dive deep into niche programming. This is a big change from the current 15 minute news model that occupies most of radio programming. For business advertisers, podcasts provide an opportunity to dictate the types of shows they want to sponsor –instead of paying for an advertising slot. For radio producers, podcasts equals new work. For podcast app and platform owners, podcasts mean that you do not have to pay royalties to performers or producers the way you do for musicians.
This is a bright new opportunity within an industry that has always struggled with paying out royalties.
Interactive Apps
I often call interactive radio "Radio 2.0" and the idea is to make radio engaging. Amazon Alexa (and all her skills) is probably the best example of interactive radio but there are also many interesting apps. Here is a curated list
Subscribe to
new posts
Processing your application Please check your inbox and click the link to confirm your subscription There was an error sending the email