I've been learning about investment strategies lately and I've found these resources to be the most valuable ones for me.
Personal Investment Strategy
At the end of the day, all I'm really looking for a way to think about money, what I should do with it and how to organize a plan. This little graphic is incredible because it pretty much tells me that before I start buying stocks and bonds, I should first make sure I have an Emergency Fund, a Company 401k and my debts paid off. Then the list keeps going and going until I'm finally able to buy securities. Thank you infographic!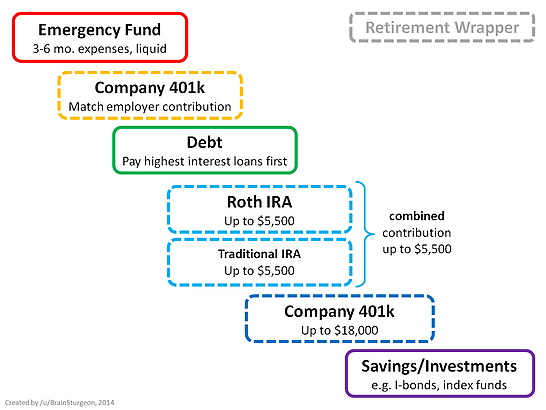 ---
How Money Works in the Modern Age
This video explains how money works in the modern age. Here's a hint: debt has now replaced gold.
---
The Financial Industry
This video does an excellent job of explaining how the machine works.
---
Good Reads
I read a lot, a whole lot and these books are actually worth reading. They're all kind of different but I guess that's the point.
Subscribe to
new posts
Processing your application Please check your inbox and click the link to confirm your subscription There was an error sending the email